StatStrip® lactate Point-of-Care meter
Early detection and monitoring of sepsis at the point of care.
StatStrip® Lactate is a portable lactate test strip analysis system for measurements directly at the point-of-care. A small sample volume enables frequent analyzes of the lactate with little blood loss. Blood gas analyzers require almost 100 times more blood compared to StatStrip® Lactate.
According to the Academy of Clinical Biochemists (NACB), if lactate is available as quickly as possible, the therapy results of a critical patient will clearly improve and therefore receive the recommendation "A" (highest category) for Critical Care Tests.
Applications:
blood micro test
intensive care unit
emergency department
ambulance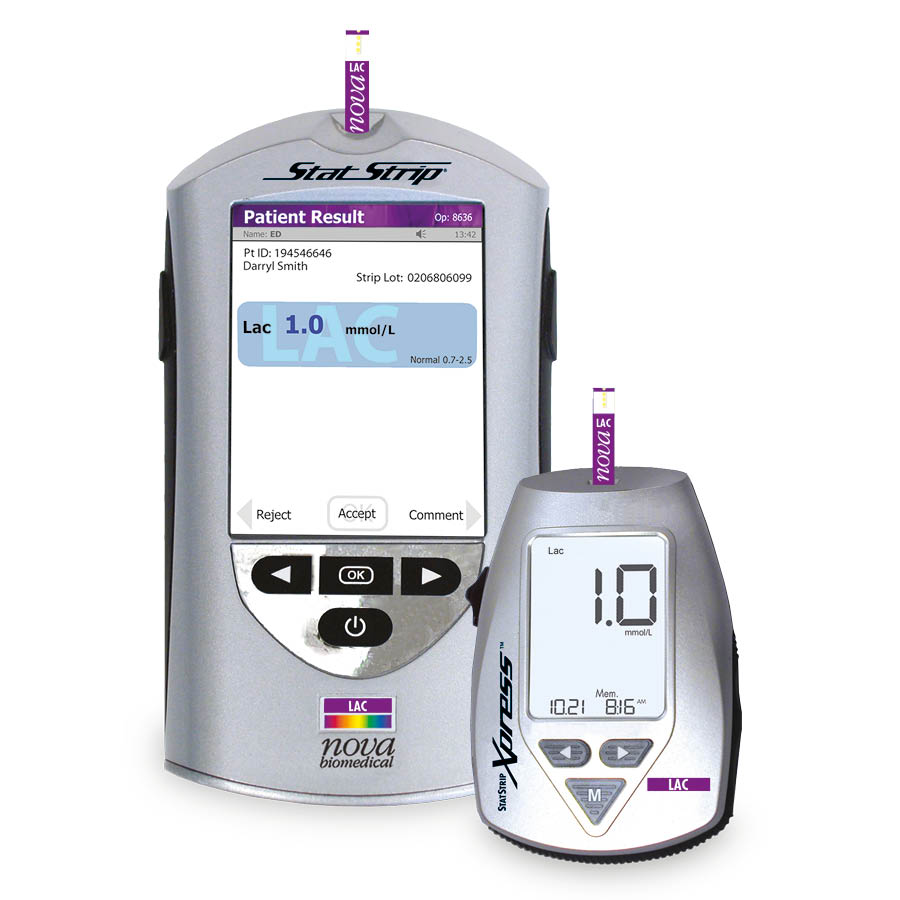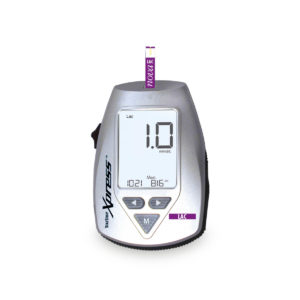 StatStrip® Xpress Lactate
Integrated barcode scanner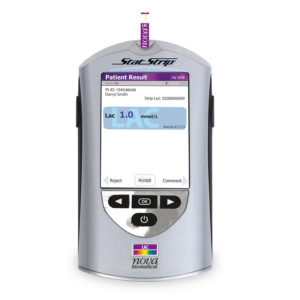 StatStrip® Connectivity Lactate
Integrated barcode scanner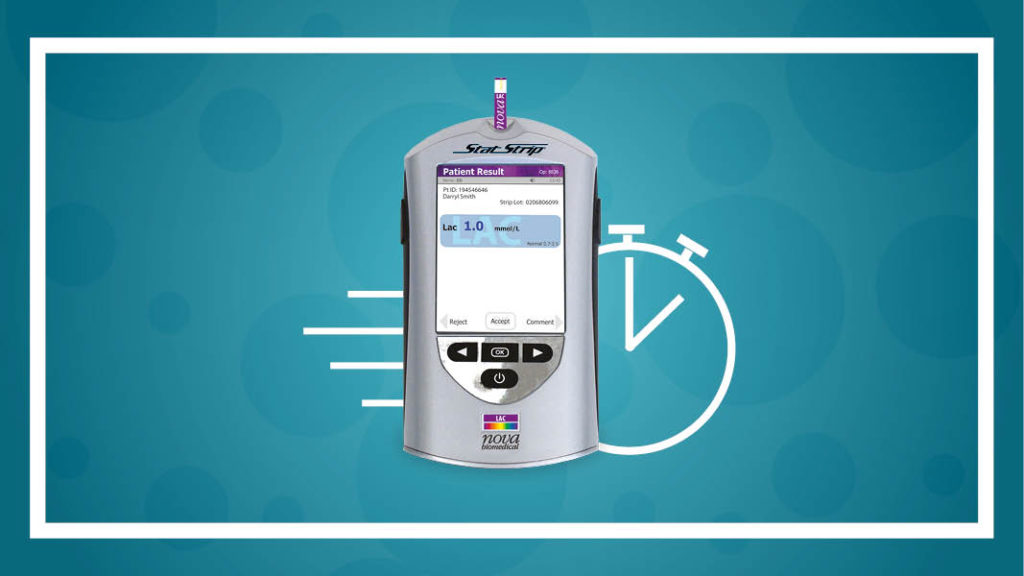 Simple and fast operating concept.
The single-use biosensors of the StatStrip® Laktat do not require any calibration or coding. The analysis is a 3-step process that can easily be carried out by nursing staff at the bedside. Because time at the point of care is essential!
Optionally with or without data binding (you can find out more about the advantages of data connectivity in the next section).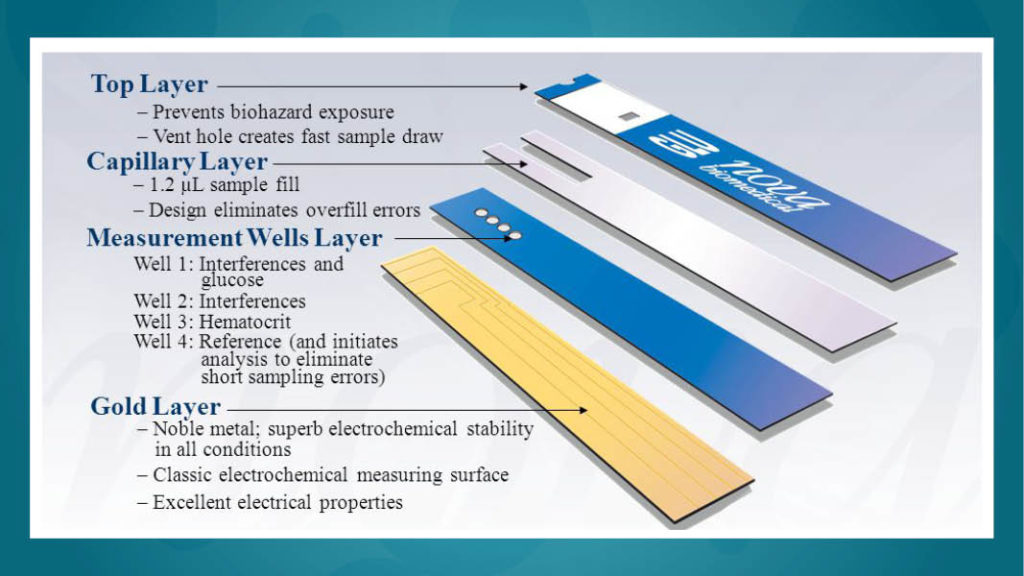 StatStrip® - test strip technology
StatStrip® Laktat combines conventional electrochemical processes with the latest nanotechnology in an advanced, patented Multi-Well ™ measuring system. This technology measures and corrects interferences such as hematocrit, paracetamol, uric and ascorbic acid, which can produce inaccurate results with other whole blood measuring devices. StatStrip® Laktat thus provides excellent comparability with lactate reference methods.
Benefits:
Long durability
No batch deviation
No calibration codes
Excellent correlation with laboratory systems
Do you have any question about this lactate meter?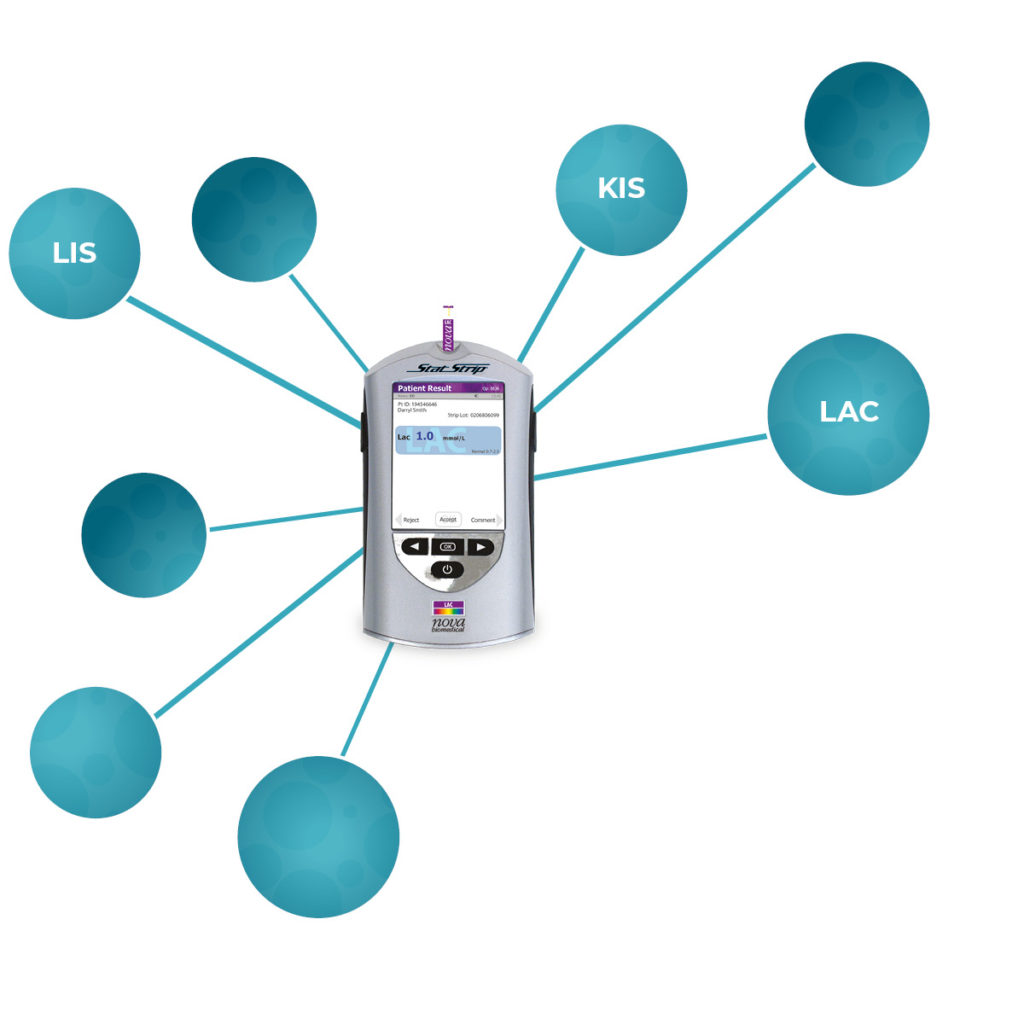 Data connection of the StatStrip® monitoring systems in a LIS / HIS.
Using NovaNet ™, the device manager software for all clinical products from Nova Biomedical®, the StatStrip® can be connected to a network using TCP / IP and POCT1-A2. In this user-friendly point-of-care system, all users can be easily managed, all QC and patient data are recorded and reports can also be created.
Nova Biomedical® offers an extensive e-learning program for the re-certification of device users.
With the integrated scanner, operator and patient IDs can be read in using 1D / 2D barcodes or entered using the alphanumeric screen keyboard. Measurement results that are outside the normal range are clearly highlighted by color coding. Several features such as patient ID, name, date of birth, etc. are shown on the display for reliable patient identification.
Advantages of the data connection:
Do you have any questions about our Point-of-Care systems?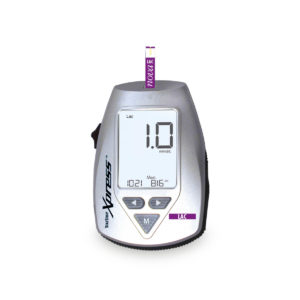 StatStrip® Xpress Lactate
Sample types
Whole blood arterial, capillary
Dimensions
H 9.8 cm x W 6.1 cm x D 2.3 cm
Memory (internal)
400 (including QC)
Power supply
2x button cell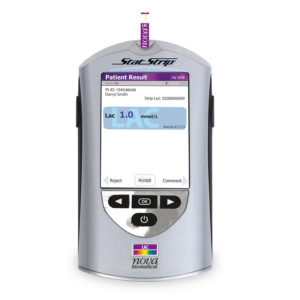 StatStrip® Connectivity Lactate
Sample types
Whole blood arterial, capillary
Dimensions
H 14.7 cm x W 7.9 cm x D 3.0 cm
Power supply
Li-polymer battery
Features
Color display, barcode scanner, docking station (optional)
Communication protocols
Networking via Novanet ™ (ASTM, HL7 or POCT01-A2)
Do you have any questions about our test strip systems?
More Point-of-Care meters.
Networkable point-of-care test strip system for the determination of glucose and ketones.
Crosslinkable point-of-care test strip system for the determination of hemoglobin and hematocrit.
A microblood test is performed to determine whether the oxygen supply to the fetus is adequate during birth.
Detecting and treating sepsis has gained high priority in intensive care worldwide and is a quality mark for some health systems.
A life-threatening complication of inadequately controlled type 1 and occasionally type 2 diabetes. DKA occurs in 65% of patients under the age of 19.