StatStrip® hemoglobin / hematocrit POCT meter
The only point-of-care device that measures hemoglobin and hematocrit instead of calculating them.
StatStrip® for measuring hemoglobin and hematocrit is the only point-of-care system that offers anemia screening and monitoring with measured instead of calculated Hb and Hct values. This major breakthrough was made possible thanks to new, patented, electrochemical technologies developed by Nova Biomedical. In addition to advantages such as capillary blood samples (1.6 μL) and results within 40 seconds, StatStrip® Hb / Hkt facilitates clinical decisions in the POCT area.
Applications:
Blood banks | Dialysis Centers | Ambulances | Hospital departments | Oncology Clinics | Prenatal care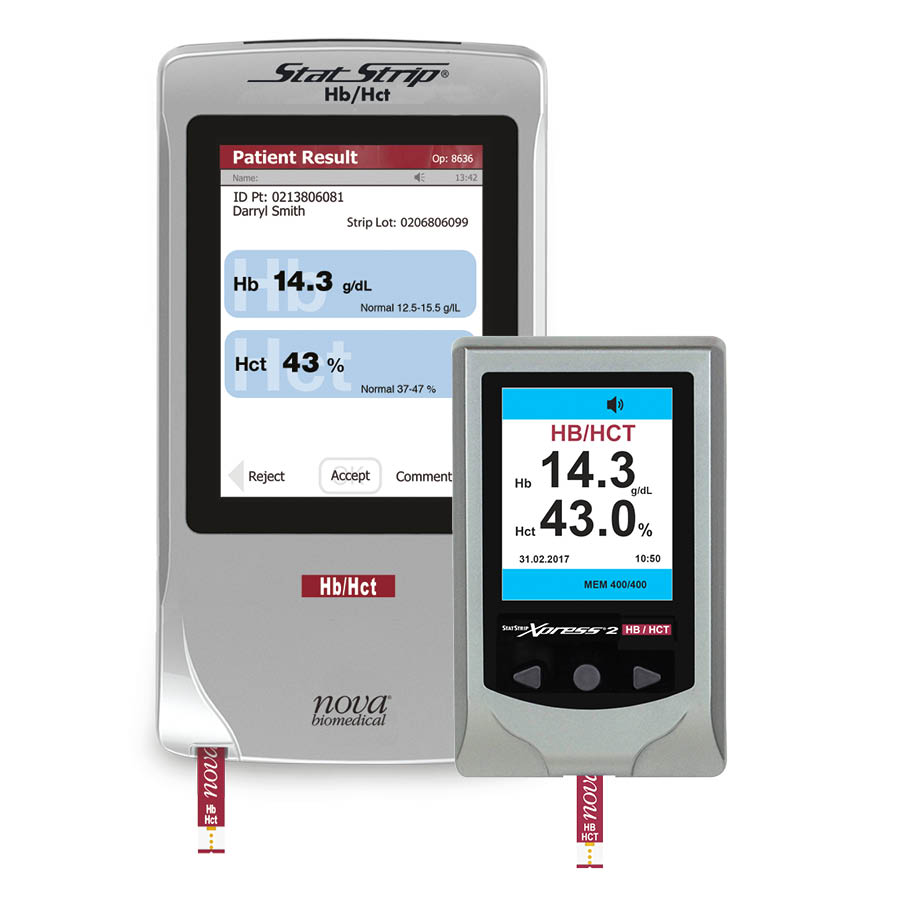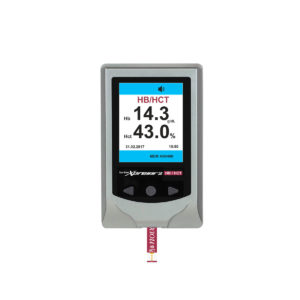 StatStrip® Xpress 2 Hb/Hct
Integrated barcode scanner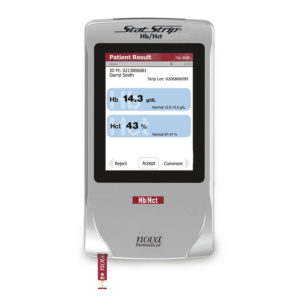 StatStrip® Connectivity Hb/Hct
Integrated barcode scanner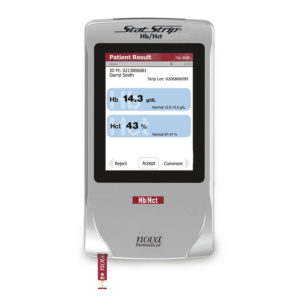 StatStrip® Hb/Hct + lactate
Hemoglobin | Hematocrit + Lactate
Integrated barcode scanner
Yes (Connectivity model, 1D / 2D)
Yes (Connectitivty model, optional)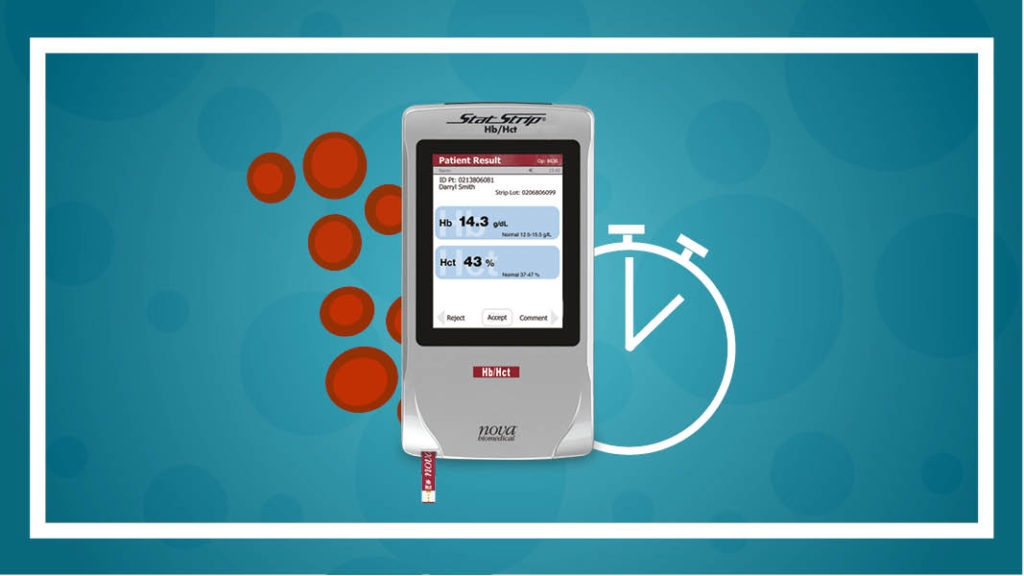 Fast and accurate Anemia diagnostics.
Both Hct and Hb readings are required for accurate anemia diagnosis. However, conventional POC measuring devices only calculate the Hkt value. Calculated Hkt values ​​are based on a normal Hkt-Hb ratio [Hkt% = 3 x Hb (g / dL)] and therefore do not provide precise data if the Hkt value deviates from the norm. This is particularly evident in structural abnormalities of red blood cells, hemoglobinopathies, and hemolytic anemia due to infections, autoimmune diseases, toxins, drugs, and chemicals. A measured Hkt value must be available for these diseases, as a calculated result can affect the course of treatment. The measurement results of StatStrip Hb / Hkt correlate closely with the values ​​measured in the laboratory.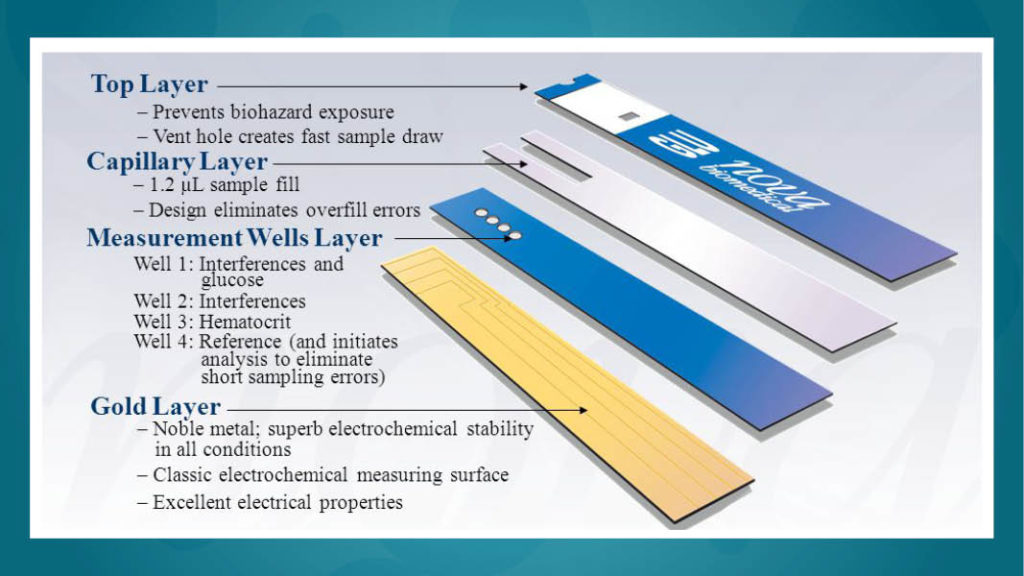 StatStrip® - test strip technology
StatStrip® Multi-Well ™ test strips deliver exceptional measurement accuracy.
Additional advantages:
Long durability
No batch deviation
No calibration codes
Excellent correlation with laboratory systems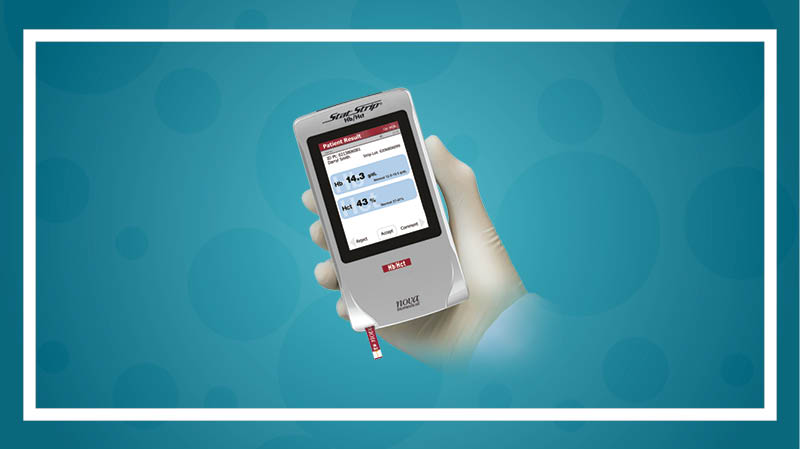 Efficient and safe handling.
Thanks to capillary blood samples, expensive blood collection equipment, venous blood collection and laboratory tests can be dispensed with. In combination with an inexpensive, single-use biosensor, StatStrip Hb / Hkt offers inexpensive POC tests for determining Hb and Hkt in many medical facilities.
Similar to blood glucose self-tests, StatStrip Hb / Hkt disposable biosensors do not need to be calibrated or coded. A test strip ejection enables contact-free disposal and prevents a potential biohazard. The testing process consists of three simple steps. With its compact and lightweight design, StatStrip Hb / Hkt is not even half the size of other POC systems that measure Hb only. The large color screen is larger and easier to read than the monochrome displays of other systems.
Do you still have questions about our point-of-care meters?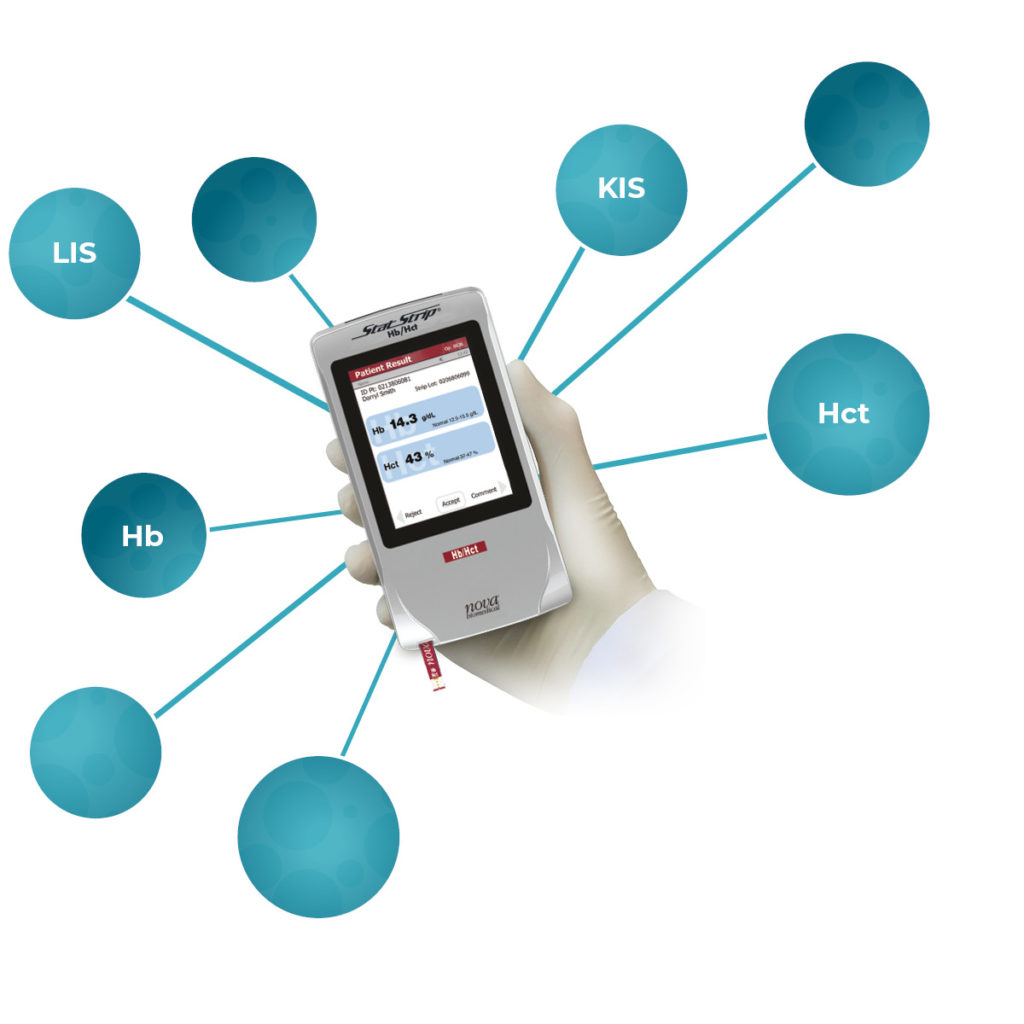 Data connection of the StatStrip® monitoring systems in a LIS / HIS.
Using NovaNet ™, the device manager software for all clinical products from Nova Biomedical®, the StatStrip® can be connected to a network using TCP / IP and POCT1-A2. In this user-friendly point-of-care system, all users can be easily managed, all QC and patient data are recorded and reports can also be created.
Nova Biomedical® offers an extensive e-learning program for the re-certification of device users.
With the integrated scanner, operator and patient IDs can be read in using 1D / 2D barcodes or entered using the alphanumeric screen keyboard. Measurement results that are outside the normal range are clearly highlighted by color coding. Several features such as patient ID, name, date of birth, etc. are shown on the display for reliable patient identification.
Advantages of the data connection:
Do you have any questions about this point-of-care meter?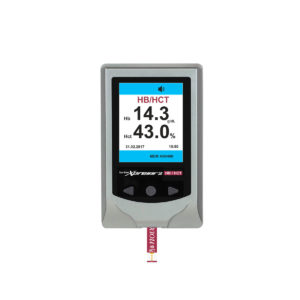 StatStrip® Xpress2 hemoglobin / hematocrit
Sample types
Whole blood venous, capillary
Dimensions
H 9.8 cm x W 6.1 cm x D 2.3 cm
Memory (internal)
400 (including QC)
Power supply
2x AAA battery
Hemoglobin 6.5-22 g / dL
Hematocrit 20-65%
Features
Color display, strip ejection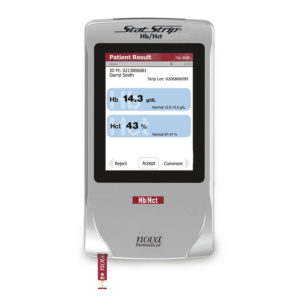 StatStrip® Connectivity hemoglobin / hematocrit
Sample types
Whole blood venous, capillary
Dimensions
H 14.7 cm x W 7.9 cm x D 3.0 cm
Memory (internal)
1,200 (including QC)
Power supply
Li-polymer battery
Hemoglobin 6.5-22 g / dL
Hematocrit 20-65%
Features
Touchscreen, barcode scanner, strip ejection, docking station (optional)
Communication protocols
Networking via Novanet ™ (ASTM, HL7 or POCT01-A2)
More point-of-care meters.
Networkable point-of-care test strip system for the determination of glucose and ketones.
A microblood test is performed to determine whether the oxygen supply to the fetus is adequate during birth.
A life-threatening complication of inadequately controlled type 1 and occasionally type 2 diabetes. DKA occurs in 65% of patients under the age of 19.
Detecting and treating sepsis has gained high priority in intensive care worldwide and is a quality mark for some health systems.